&nbsp The Joliet Jaguar Hockey Club Fundraiser
The Joliet Jaguar Hockey Club Fundraiser includes a Gift-checkbook and a Sweepstakes Ticket. The Hockey Fantasy Sweepstakes ticket features a fun game with cash prizes based on pro hockey scores. The Gift-checkbook contains eight local offers worth over $80!
Each sweepstakes ticket provides the chance to win one of six weekly cash prizes for each of 15 weeks of the pro hockey season, with the top weekly prize being $250!
Note: If the pro hockey season does not start as scheduled, weekly prize winners will be determined using previous year's hockey scores until such time as the pro hockey season resumes.
Prize winners will be announced every week on this website under the Sweepstakes tab and checks will be mailed out to winners.
Thanks for supporting the Joliet Jaguar Hockey Club and our local merchants!
---
Features valuable offers from these local businesses:
| | | | |
| --- | --- | --- | --- |
| The Dock at Inwood | $10.00 | | |
| Aurelio's Pizza of Joliet | $7.00 | | |
| Hamburgerseria | $7.00 | | |
| Johnny's Beef & Gyros | $5.00 | | |
| McBride's Pub & Grill | $5.00 | | |
| Nothing Bundt Cakes | $5.00 | | |
| Bowlero | $15.00 | | |
| SportClips | $29.00 | | |
| | | | |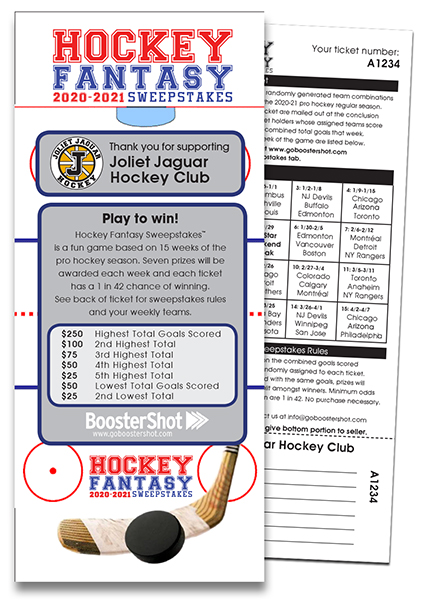 Expiration date of ticket offers: 10/31/2021