&nbsp The Moorhead Spuds Weightlifting Football Blitz Sweepstakes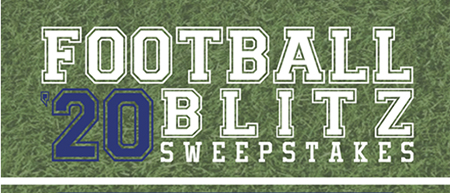 The Spuds Weightlifting Football Blitz Sweepstakes ticket features a fun game with cash prizes based on pro football game scores. Plus, each ticket includes two local offers.
Each sweepstakes ticket provides the chance to win one of sixteen weekly cash prizes for each of the final 10 weeks of the pro football season, with the top weekly prize being $250!
Note: If the pro football season is interrupted due to COVID-19, weekly prize winners will be determined using previous year's football scores until such time as the pro football season resumes.
Prize winners will be announced every week on this website under the Sweepstakes tab and checks will be mailed out to winners.
Thanks for supporting the Spuds Weightlifting program and our local merchants!
---
Features valuable offers from these local businesses:
| | | | |
| --- | --- | --- | --- |
| Jersey Mike's Subs | $5.00 | | |
| El Torero Mexican Restaurant | $5.00 | | |
| | | | |
| | | | |
| | | | |
| | | | |
| | | | |
| | | | |
| | | | |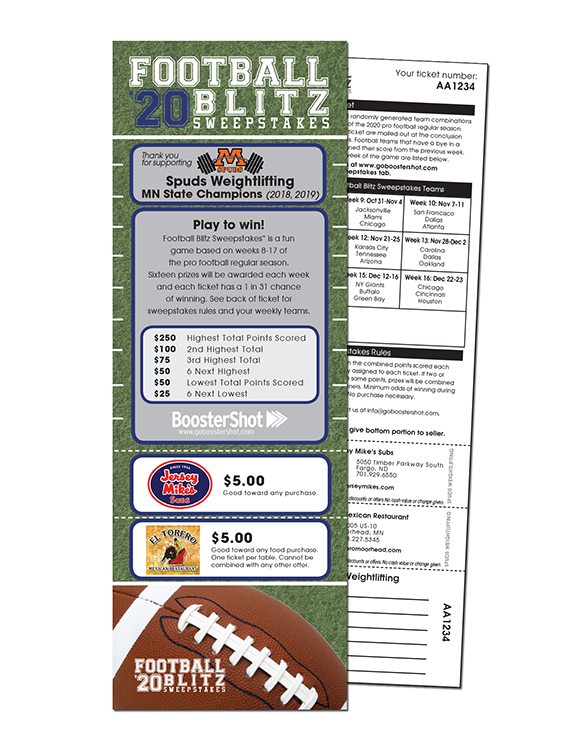 Expiration date of ticket offers: 11/30/2021